Poets Essayists Novelists Pensacola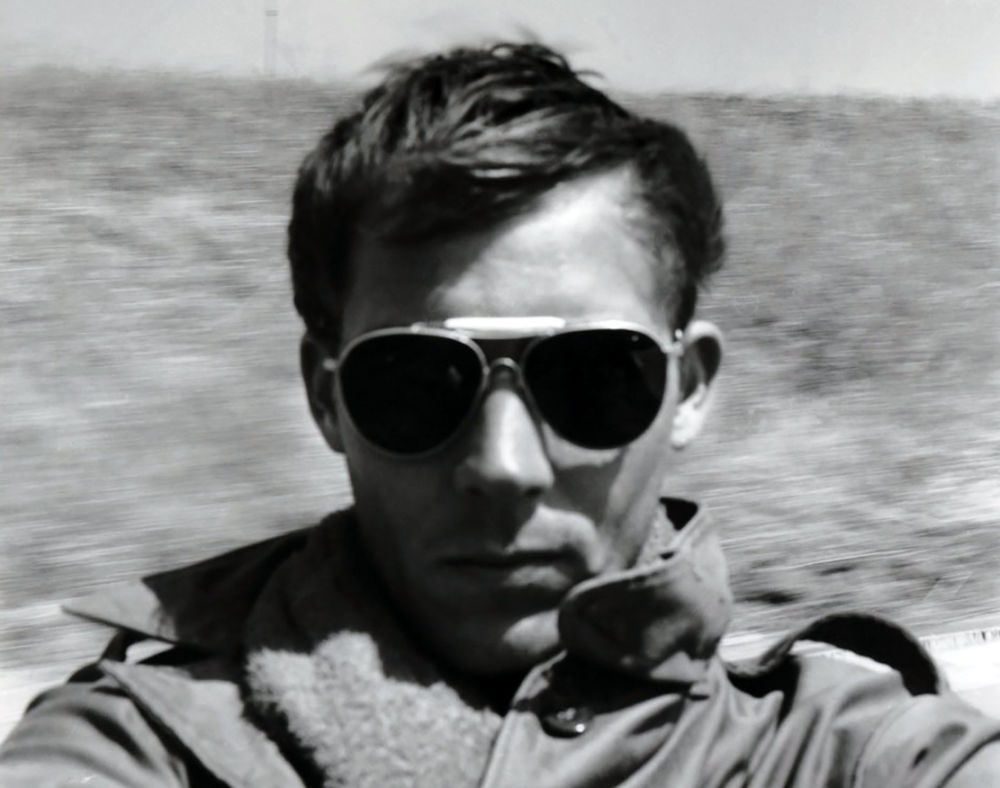 In an October 1957 letter to a friend who had recommended he read Ayn Rand's The Fountainhead, Hunter S. Thompson wrote, "Although I don't feel that it's at all necessary to tell you how I feel about the principle of individuality, I know that I'm going to have to spend the rest of my life expressing it one way or another, and I think that I'll accomplish more by expressing it on the keys of a typewriter than by letting it express itself in sudden outbursts of frustrated violence. . . ."
Thompson carved out his niche early. He was born in 1937, in Louisville, Kentucky, where his fiction and poetry earned him induction into the local Athenaeum Literary Association while he was still in high school. Thompson continued his literary pursuits in the United States Air Force, writing a weekly sports column for the base newspaper. After two years of service, Thompson endured a series of newspaper jobs—all of which ended badly—before he took to freelancing from Puerto Rico and South America for a variety of publications. The vocation quickly developed into a compulsion.
Thompson completed The Rum Diary, his only novel to date, before he turned twenty-five; bought by Ballantine Books, it finally was published—to glowing reviews—in 1998. In 1967, Thompson published his first nonfiction book, Hell's Angels, a harsh and incisive firsthand investigation into the infamous motorcycle gang then making the heartland of America nervous.
Fear and Loathing in Las Vegas, which first appeared in Rolling Stone in November 1971, sealed Thompson's reputation as an outlandish stylist successfully straddling the line between journalism and fiction writing. As the subtitle warns, the book tells of "a savage journey to the heart of the American Dream" in full-tilt gonzo style—Thompson's hilarious first-person approach—and is accented by British illustrator Ralph Steadman's appropriate drawings.
His next book, Fear and Loathing: On the Campaign Trail '72, was a brutally perceptive take on the 1972 Nixon-McGovern presidential campaign. A self-confessed political junkie, Thompson chronicled the 1992 presidential campaign in Better than Sex (1994). Thompson's other books include The Curse of Lono (1983), a bizarre South Seas tale, and three collections of Gonzo Papers: The Great Shark Hunt (1979), Generation of Swine (1988) and Songs of the Doomed (1990).
In 1997, The Proud Highway: Saga of a Desperate Southern Gentleman, 1955-1967, the first volume of Thompson's correspondence with everyone from his mother to Lyndon Johnson, was published. The second volume of letters, Fear and Loathing in America: The Brutal Odyssey of an Outlaw Journalist, 1968-1976, has just been released.
•
Located in the mostly posh neighborhood of western Colorado's Woody Creek Canyon, ten miles or so down-valley from Aspen, Owl Farm is a rustic ranch with an old-fashioned Wild West charm. Although Thompson's beloved peacocks roam his property freely, it's the flowers blooming around the ranch house that provide an unexpected high-country tranquility. Jimmy Carter, George McGovern and Keith Richards, among dozens of others, have shot clay pigeons and stationary targets on the property, which is a designated Rod and Gun Club and shares a border with the White River National Forest. Almost daily, Thompson leaves Owl Farm in either his Great Red Shark Convertible or Jeep Grand Cherokee to mingle at the nearby Woody Creek Tavern.
Visitors to Thompson's house are greeted by a variety of sculptures, weapons, boxes of books and a bicycle before entering the nerve center of Owl Farm, Thompson's obvious command post on the kitchen side of a peninsula counter that separates him from a lounge area dominated by an always-on Panasonic TV, always tuned to news or sports. An antique upright piano is piled high and deep enough with books to engulf any reader for a decade. Above the piano hangs a large Ralph Steadman portrait of "Belinda"—the Slut Goddess of Polo. On another wall covered with political buttons hangs a Che Guevara banner acquired on Thompson's last tour of Cuba. On the counter sits an IBM Selectric typewriter—a Macintosh computer is set up in an office in the back wing of the house.
The most striking thing about Thompson's house is that it isn't the weirdness one notices first: it's the words. They're everywhere—handwritten in his elegant lettering, mostly in fading red Sharpie on the blizzard of bits of paper festooning every wall and surface: stuck to the sleek black leather refrigerator, taped to the giant TV, tacked up on the lampshades; inscribed by others on framed photos with lines like, "For Hunter, who saw not only fear and loathing, but hope and joy in '72—George McGovern"; typed in IBM Selectric on reams of originals and copies in fat manila folders that slide in piles off every counter and table top; and noted in many hands and inks across the endless flurry of pages.
Thompson extricates his large frame from his ergonomically correct office chair facing the TV and lumbers over graciously to administer a hearty handshake or kiss to each caller according to gender, all with an easy effortlessness and unexpectedly old-world way that somehow underscores just who is in charge.
•
We talked with Thompson for twelve hours straight. This was nothing out of the ordinary for the host: Owl Farm operates like an eighteenth-century salon, where people from all walks of life congregate in the wee hours for free exchanges about everything from theoretical physics to local water rights, depending on who's there. Walter Isaacson, managing editor of Time, was present during parts of this interview, as were a steady stream of friends. Given the very late hours Thompson keeps, it is fitting that the most prominently posted quote in the room, in Thompson's hand, twists the last line of Dylan Thomas's poem "Do Not Go Gentle into That Good Night": "Rage, rage against the coming of the light."
For most of the half-day that we talked, Thompson sat at his command post, chain-smoking red Dunhills through a German-made gold-tipped cigarette filter and rocking back and forth in his swivel chair. Behind Thompson's sui generis personality lurks a trenchant humorist with a sharp moral sensibility. His exaggerated style may defy easy categorization, but his career-long autopsy on the death of the American dream places him among the twentieth century's most exciting writers. The comic savagery of his best work will continue to electrify readers for generations to come.
•
. . . I have stolen more quotes and thoughts and purely elegant little starbursts of writing from the Book of Revelation than from anything else in the English Language—and it is not because I am a biblical scholar, or because of any religious faith, but because I love the wild power of the language and the purity of the madness that governs it and makes it music.
HUNTER S. THOMPSON
Well, wanting to and having to are two different things. Originally I hadn't thought about writing as a solution to my problems. But I had a good grounding in literature in high school. We'd cut school and go down to a café on Bardstown Road where we would drink beer and read and discuss Plato's parable of the cave. We had a literary society in town, the Athenaeum; we met in coat and tie on Saturday nights. I hadn't adjusted too well to society—I was in jail for the night of my high school graduation—but I learned at the age of fifteen that to get by you had to find the one thing you can do better than anybody else . . . at least this was so in my case. I figured that out early. It was writing. It was the rock in my sock. Easier than algebra. It was always work, but it was always worthwhile work. I was fascinated early by seeing my byline in print. It was a rush. Still is.
When I got to the Air Force, writing got me out of trouble. I was assigned to pilot training at Eglin Air Force Base near Pensacola in northwest Florida, but I was shifted to electronics . . . advanced, very intense, eight-month school with bright guys . . . I enjoyed it but I wanted to get back to pilot training. Besides, I'm afraid of electricity. So I went up there to the base education office one day and signed up for some classes at Florida State. I got along well with a guy named Ed and I asked him about literary possibilities. He asked me if I knew anything about sports, and I said that I had been the editor of my high-school paper. He said, "Well, we might be in luck." It turned out that the sports editor of the base newspaper, a staff sergeant, had been arrested in Pensacola and put in jail for public drunkenness, pissing against the side of a building; it was the third time and they wouldn't let him out.
So I went to the base library and found three books on journalism. I stayed there reading them until it closed. Basic journalism. I learned about headlines, leads: who, when, what, where, that sort of thing. I barely slept that night. This was my ticket to ride, my ticket to get out of that damn place. So I started as an editor. Boy, what a joy. I wrote long Grantland Rice-type stories. The sports editor of my hometown Louisville Courier Journal always had a column, left-hand side of the page. So I started a column.
By the second week I had the whole thing down. I could work at night. I wore civilian clothes, worked off base, had no hours, but I worked constantly. I wrote not only for the base paper, The Command Courier, but also the local paper, The Playground News. I'd put things in the local paper that I couldn't put in the base paper. Really inflammatory shit. I wrote for a professional wrestling newsletter. The Air Force got very angry about it. I was constantly doing things that violated regulations. I wrote a critical column about how Arthur Godfrey, who'd been invited to the base to be the master of ceremonies at a firepower demonstration, had been busted for shooting animals from the air in Alaska. The base commander told me: "Goddamn it, son, why did you have to write about Arthur Godfrey that way?"
When I left the Air Force I knew I could get by as a journalist. So I went to apply for a job at Sports Illustrated. I had my clippings, my bylines, and I thought that was magic . . . my passport. The personnel director just laughed at me. I said, "Wait a minute. I've been sports editor for two papers." He told me that their writers were judged not by the work they'd done, but where they'd done it. He said, "Our writers are all Pulitzer Prize winners from The New York Times. This is a helluva place for you to start. Go out into the boondocks and improve yourself."
I was shocked. After all, I'd broken the Bart Starr story.
INTERVIEWER
What was that?
THOMPSON
At Eglin Air Force Base we always had these great football teams. The Eagles. Championship teams. We could beat up on the University of Virginia. Our bird-colonel Sparks wasn't just any yo-yo coach. We recruited. We had these great players serving their military time in ROTC. We had Zeke Bratkowski, the Green Bay quarterback. We had Max McGee of the Packers. Violent, wild, wonderful drunk. At the start of the season McGee went AWOL, appeared at the Green Bay camp and he never came back. I was somehow blamed for his leaving. The sun fell out of the firmament. Then the word came that we were getting Bart Starr, the All-American from Alabama. The Eagles were going to roll! But then the staff sergeant across the street came in and said, "I've got a terrible story for you. Bart Starr's not coming." I managed to break into an office and get out his files. I printed the order that showed he was being discharged medically. Very serious leak.
INTERVIEWER
The Bart Starr story was not enough to impress Sports Illustrated?
THOMPSON
The personnel guy there said, "Well, we do have this trainee program." So I became a kind of copy boy.
INTERVIEWER
You eventually ended up in San Francisco. With the publication in 1967 of Hell's Angels, your life must have taken an upward spin.
THOMPSON
All of a sudden I had a book out. At the time I was twenty-nine years old and I couldn't even get a job driving a cab in San Francisco, much less writing. Sure, I had written important articles for The Nation and The Observer, but only a few good journalists really knew my byline. The book enabled me to buy a brand new BSA 650 Lightning, the fastest motorcycle ever tested by Hot Rod magazine. It validated everything I had been working toward. If Hell's Angels hadn't happened I never would have been able to write Fear and Loathing in Las Vegas or anything else. To be able to earn a living as a freelance writer in this country is damned hard; there are very few people who can do that. Hell's Angels all of a sudden proved to me that, Holy Jesus, maybe I can do this. I knew I was a good journalist. I knew I was a good writer, but I felt like I got through a door just as it was closing.
INTERVIEWER
With the swell of creative energy flowing throughout the San Francisco scene at the time, did you interact with or were you influenced by any other writers?
THOMPSON
Ken Kesey for one. His novels One Flew Over the Cuckoo's Nest and Sometimes a Great Notion had quite an impact on me. I looked up to him hugely. One day I went down to the television station to do a roundtable show with other writers, like Kay Boyle, and Kesey was there. Afterwards we went across the street to a local tavern and had several beers together. I told him about the Angels, who I planned to meet later that day, and I said, "Well, why don't you come along?" He said, "Whoa, I'd like to meet these guys." Then I got second thoughts, because it's never a good idea to take strangers along to meet the Angels. But I figured that this was Ken Kesey, so I'd try. By the end of the night Kesey had invited them all down to La Honda, his woodsy retreat outside of San Francisco. It was a time of extreme turbulence—riots in Berkeley. He was always under assault by the police—day in and day out, so La Honda was like a war zone. But he had a lot of the literary, intellectual crowd down there, Stanford people also, visiting editors, and Hell's Angels. Kesey's place was a real cultural vortex.
The organisation known today as PEN International began in London, UK, in 1921, as simply PEN. Within four years there were 25 PEN Centres in Europe, and by 1931 there were several Centres in South America as well as China.
As the world grew darker just before the outbreak of war in 1939, PEN member Centres included Argentina, Australia, Bolivia, Brazil, Canada, Chile, Colombia, Egypt, India, Iraq, Japan, Mexico, New Zealand, Palestine, Uruguay, the US and others. All the Scandinavian countries were accounted for in the membership, as well as several countries in Eastern Europe. Basque, Catalan and Yiddish Centres were represented, too.
For over eight decades, then, we have been a genuinely international organisation, encompassing a wide array of cultures and languages, and today the overwhelming majority of PEN International's 145 Centres come from outside Europe.
PEN was one of the world's first non-governmental organisations and amongst the first international bodies advocating for human rights. Certainly, we were the first worldwide association of writers, and the first organisation to point out that freedom of expression and literature are inseparable – a principle we continue to champion today and which is expressed in our Charter, a signature document 22 years in the making from its origins in 1926 and ratification at the 1948 Congress in Copenhagen.
PEN has grappled with the challenges to literature and freedom for nearly one troubled century, beginning just after World War I to the buildup and eruption of World War II, then throughout the Cold War and the fall of the Soviet Union and into today's more nuanced climate worldwide. It has responded to modern history's most dramatic turns, and its heroes have included the most celebrated intellectuals of each era as well as countless tireless and dedicated members fighting to ensure that the right to write, speak, read and publish is forever at the heart of world culture.
'PEN': What's in a Name?
Our name was conceived as an acronym: 'Poets, Essayists, Novelists' (later broadened to 'Poets, Playwrights, Editors, Essayists, Novelists'). Following World War Two, as the notion of an executive developed (see below), PEN became known as International PEN, comprising a growing number of Centres around the world. Over time, as our membership expanded to include a more diverse range of people involved with words and freedom of expression, the aforementioned categories no longer exclusively defined who could join. Today, PEN is simply PEN. In 2010, as part of a general rebranding, the organisation was renamed PEN International.
Genesis: a new kind of dinner club
Catharine Amy Dawson-Scott, a British poet, playwright and peace activist, founded PEN as a way to unite writers after the devastation of World War One. It was, at first, nothing more than a dinner club, providing a space for writers to share ideas and socialise. PEN clubs would be set up in other European cities, so writers on their travels would have a place to meet friends and fellows.
Guests at Dawson-Scott's dinner included PEN's first president, John Galsworthy, who spoke of the possibilities for an international movement – a 'League of Nations for Men and Women of Letters'.
A question of politics
PEN held its first Congress in 1923, with 11 Centres taking part. Throughout the 1920s, PEN was unique in bringing writers together regardless of culture, language or political opinion – especially considering the political turmoil the world had begun to experience. In fact, one of the founding ideas guiding PEN was expressed as 'no politics in PEN Clubs – under any circumstances'. PEN saw itself standing for freedom of expression, peace and friendship, not political debate.
By 1933, however, this thinking was challenged by the growing shadow of National Socialism in Germany. The delegates attending PEN's Congress in Dubrovnik that year found it impossible to ignore the growing climate of repression and intolerance.
The German dissenters
Even as early as 1926, at PEN's fourth Congress in Berlin, tensions had arisen between the German PEN Club and the PEN community in general. A number of young German writers – Bertolt Brecht, Alfred Döblin and Robert Musil amongst them – expressed their concern that PEN in their country didn't represent the true face of German literature. They met with Galsworthy to express their dismay. The playwright Ernst Toller insisted that PEN could not ignore politics – that it was everywhere and influenced everything.
Burning books, burning indignation
In 1932, at the Congress in Budapest, an appeal was sent to all governments concerning religious and political prisoners. Galsworthy issued a five-point declaration – another stage in the evolution of the PEN Charter as it is today.
The following year saw political tensions rise to an unprecedented level within PEN. The British novelist H. G. Wells, who became PEN's president in 1933 following Galsworthy's death, led a campaign against the burning of books by the Nazis in Germany. German PEN failed to protest and, moreover, attempted to prevent Toller (who was Jewish) from speaking at the Congress in Dubrovnik. It subsequently had its membership withdrawn. 'If German PEN has been reconstructed in accordance with nationalistic ideas,' a statement from PEN read, 'it must be expelled.'
Writers behind bars: two early cases
By the late 1930s, PEN was active in appealing on behalf of writers and protesting against their treatment. The case of the Hungarian-born Arthur Koestler (then a journalist), who had been imprisoned in Fascist Spain and sentenced to death, was one early success: he was freed soon after PEN campaigned for his release.
(The great Spanish poet Federico García Lorca, on the other hand, was executed shortly after his arrest; tragically, PEN could only take action upon receiving a telegram – too late – informing the organisation of the danger he had faced. A resolution at the 1937 PEN Congress in Paris paid homage to Lorca and expressed dismay to the people of Spain at his death. This response, in fact, was likely a factor in the positive outcome of Koestler's case.)
Postwar PEN
PEN looked very different at the end of World War Two. The original concept behind its creation as a club welcoming writers regardless of race, religion or creed had been fractured by reality. New groups of writers in exile had also been established in London and New York during the war.
Pressing issues faced PEN, such as how to deal with writers who had supported National Socialism in Germany and elsewhere, and how to ensure that the growing international PEN community could come together regularly enough and contact each other quickly when necessary. Thus the Executive Committee was formed.
In 1949, following the passage of a resolution introduced by the PEN American Centre, PEN acquired consultative status at the United Nations as 'representative of the writers of the world'.
By the 1950s, PEN members were discussing the formation of a committee to examine cases of writers imprisoned or persecuted for their work and opinions. The Writers in Prison Committee came into being as a result, in April 1960. Despite – or perhaps because of – the Cold War's polarising effect on the world, PEN's influence spread internationally.
Wole Soyinka and a certain letter from Marilyn Monroe's husband
In 1967, under the presidency of American playwright Arthur Miller, PEN appealed to Nigeria on behalf of a playwright whose name was, then, not widely known outside his country. Wole Soyinka had been marked for immediate execution by the country's head of state, General Yakubu Gowon, during the civil war over Biafran secession.
A businessman conveyed the letter from PEN to Gowon, who noted the name of its author and asked he was in fact the same man who had married Marilyn Monroe (which indeed Miller had, in 1956). When assured that the very same man was asking for the Soyinka's release, Gowon released his prisoner – who then left the country and, of course, went on to become one of the world's most eminent poets and playwrights, winning the Nobel Prize for Literature in 1986.
Russians unmoved
Miller also travelled to the USSR to meet with the Union of Soviet Writers, and was told bluntly that Soviet writers wanted to join PEN but for one major obstacle: the Charter. Miller made it clear that altering the Charter to suit the Soviets was not up for discussion, adding that the vision it articulated was what united PEN worldwide. He nevertheless made sure that dialogue across the East–West divide was kept open; but it wasn't until 1988 that Russian PEN was finally formed.
Over the next three decades to the turn of the millennium, PEN's reach and impact were felt in most regions of the world. Our voice was increasingly valued and heeded, both at national and international levels, on issues such as freedom of expression, translation, the problems faced by women writers and the very simple question of how to bring writers together across cultures and languages. Our campaigns against the censorship, persecution, imprisonment and murder of writers also never flagged, becoming increasingly sophisticated.
The Rushdie affair
During the 1980s and 1990s, PEN's work on behalf of persecuted and imprisoned writers became well known by the international community, amongst writers and governments alike. In 1989 Salman Rushdie, winner of the Booker Prize eight years earlier, received more international attention then he had bargained for with the publication of his fourth novel, The Satanic Verses. He was forced into hiding after Iran's Ayatollah Khomeini issued a religious edict: the notorious fatwa (the word entered common usage in the West thereafter). The fatwa called for the author's death for, supposedly, having insulted Islam in the novel. Rushdie's ordeal is now part of literary history; he quickly became a symbol at the time, as a writer persecuted for his words. PEN played a key role in the global campaign that called for the withdrawal of the fatwa, and supported publishers of the book worldwide. Rushdie is, to this day, an active member of PEN International, and the former president of the PEN American Centre.
Ken Saro-Wiwa: a hero silenced
In 1995, the focus returned to Nigeria. PEN had, during the early 1990s, followed the case of the novelist, screenwriter and human-rights activist Ken Saro-Wiwa, who had first been arrested in 1992 for campaigning on behalf of the Ogoni people of the Niger Delta. The Ogoni were demanding greater autonomy, and Saro-Wiwa urged multinational petroleum corporations such as Royal Dutch Shell to take responsibility for clearing up the environmental damage to Ogoni lands caused by oil extraction.
He was released after a few months, but was detained again in January 1993 for one month following a peaceful protest that had been violently suppressed by Nigerian security forces. In May 1994, four Ogoni chiefs were killed by a mob of militant Ogoni activists. Saro-Wiwa, who had earlier been prevented from attending a meeting with these chiefs, was arrested again along with fourteen leaders of the Ogoni rights movement.
Charged with inciting the murders, he was convicted despite claims by many observers that the trial was rigged. On 10 November 1995, after an extensive international campaign led by PEN Centres around the world, Saro-Wiwa was executed. An international outcry ensued, and in 1996 a lawsuit was filed against Shell alleging the corporation's complicity in human-rights abuses in Nigeria, including the killing of Saro-Wiwa. (In 2009 Shell agreed to pay a settlement of US $15.5 million, though the company continued to claim it was not guilty of the charge.)
Two assassinations
In October 2006, Anna Politkovskaya, a high-profile Russian journalist from the independent newspaper Novaya Gazeta who had received death threats for her reporting on the war in Chechnya, was found murdered in the lift of her Moscow apartment building. PEN International has since been at the forefront of efforts to bring her murderer(s) to account.
Three months later, in January 2007, the Armenian-Turkish writer and newspaper editor Hrant Dink was fatally shot in Istanbul. Dink had been charged under Article 301 of Turkey's Penal Code for 'insulting Turkishness' through his writings, which challenged the Turkish government's refusal to acknowledge the Armenian Genocide of 1915. Following his murder, PEN International helped support Dink's family, and demanded a full and open investigation into his death. (A young Turkish ultra-nationalist was eventually sentenced as the assassin, and several other men were implicated and tried as well.)
PEN International is now active in over 100 countries, and still echoes Dawson-Scott's and Galsworthy's original principles advocating freedom of expression, peace and friendship. Those writers' voices, and those of the many others who joined them over the past 90 years of our existence, are still very much with us. Without them, PEN International could not have become the strong, vibrant, active movement it is today.